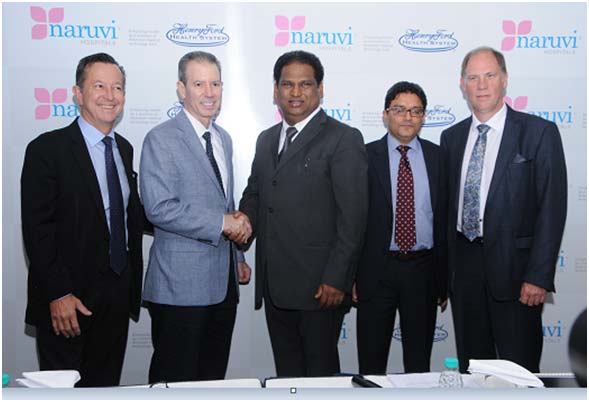 05 Apr

Pearl Annoucement

Photo Caption: From the left
Dr. Scott A Dulchavsky, M.D, Ph.D – CEO, The Henry Ford Innovation Institute
Mr. Mark Coticchia – Vice President & Chief Innovation Officer – Henry Ford Health Systems, USA
Mr. G V Sampath – Mr. G.V. Sampath, Chairman and Managing Director of Pearl Human Care.
Mr. Amber Malhotra – Managing Director Model Hospitals Pvt. Ltd.

 

Chennai, September 29, 2016 – Pearl Human Care Pvt. Ltd., a leading health care provider, entered into a license agreement with Henry Ford Health System, headquartered in Detroit, Michigan for the establishment of Naruvi Hospitals, a super specialty hospital in Vellore, Tamil Nadu. Under the arrangement, Henry Ford Health System will provide technology license, infuse a combination of clinical best practices and provide advanced digital technology. Pearl Human Care will be responsible for creating the infrastructure and managing the operations.

Dr. Stephen Bartol, MD, MBA, FRSCSC – Chief Medical Officer, Innovations – Henry Ford Health System

To be built with an investment of INK 330 chores, the 400-bed super specialty hospital is likely to commence operations in 2019. Upon commencement of the operations, the hospital Will provide employment opportunities to about 300 medical professionals and 1000 support staff. Naruvi Hospitals will deploy cutting edge technology and globally advanced medical protocols that will transform the patient experience in India. The technical licensing arrangement covers clinical specialty, equipment selection and procurement, patient flow, key case review mechanism, quality control and building design to name a few. The state of the art hospital will be managed key a team of in house medical experts and international consultants guided by Henry Ford Health System.